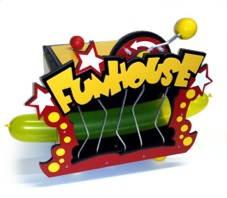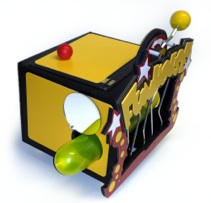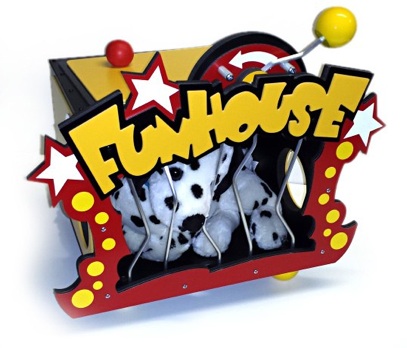 Wacky Wolf Funhouse

Created by Chance Wolf
We have created a Production Cabinet that will KNOCK YOUR SOCKS OFF not only Visually but in performance as well.
EFFECT: The FUNHOUSE is shown to be EMPTY. A child is asked to come up and have some FUN with the FUNHOUSE. After a bit of talk about Carnivals the child is asked if he would like to help create some magic. A Balloon is blown up and the child names his favorite animal. The Magician proceeds making a feeble attempt to twist up the balloon to create the chosen animal. He fails and recommends trying to use the FUNHOUSE to make some Magic. Panels are flipped back, balloon is pushed through the FUNHOUSE. The child is asked to CRANK the HANDLE at the Count of three! On three, the Crank is Turned and a LOUD CRACK and a POP is HEARD as a LIVE ANIMAL APPEARS!!
Features: Wolf's Magic 3-D Laminated Graphics, EASY CLEAN Load Compartment, Detachable Crank Handle Lever System, Rotating Plex Mirror panels & Wacky Ball-Feet. The BLACK ART is UNREAL EVEN CLOSE UP!
One dozen Balloons INCLUDED!
Believe us when we tell you that this is the most beautiful prop you've ever laid eyes on! Exceptional quality throughout and is a must-have item for any working Children's Entertainer!
Requires #350 Twisty Balloons
Size: 17″Wide x 12″Deep x 14″Tall / Angled Trap Load Chamber: 11 1/2″ Wide x 8″ Tall x 7 1/2″ Front to Back
Out of Stock

(Please submit name and email below to be added to the "Interested List")
$525 + Shipping

Shipping Terms & Conditions
Please select the shipping option below based on destination (USA, Canada or International).  International shipping fees below do NOT include any taxes or import duties your country may impose.  International shipments may take up to 10 days to arrive and we will only offer refunds on lost/damaged shipments if insurance was purchased.  Please feel free to contact us with any questions.

Submit below to be added to the Interested List for this effect!

Thanks so much for your interest & support!