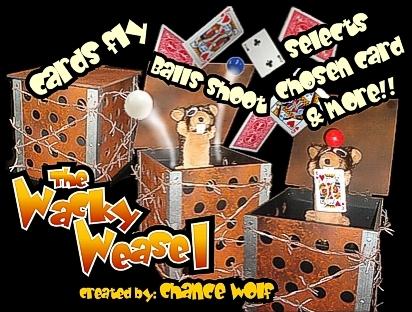 the WACKY WEASEL

Created by Chance Wolf
We are happy to release an effect which has been two years in the making! "The Wacky Weasel". This is an ACTION PACKED routine, by Arthur Atsma & Chance Wolf, is guaranteed to bring fun & laughter to both Adults and children. The basic routine is very similar to the Classic Snake Basket effect but at a much more rapid pace with a few more animations and features. The show begins as the Magician asks a spectator to give him a hand with the next trick. A card trick unlike any other as this trick makes use of a WILD ANIMAL!! The magician brings out a Burlap Bag that is THRASHING ABOUT and asks the lady if she would please reach inside and grab the animal as you prepare the Holding Cage. As expected, she refuses and you bravely reach into the bag and withdraw "Wesley the Wacky Weasel". Don't let his sweet looks fool you as he is truly a VISCOUS BEAST! Wesley runs about the magicians body as he is thrown into the BARBED WIRE covered RUSTY BOX and the lid is slammed shut to protect the audience from sure DANGER! Wesley begins to raise trouble throughout the routine as the Magician attempts to demonstrate Wesley's Psychic and Magical Skills.
The routine continues with more gags and magical animations including:
Burlap Bag gimmicked to thrash about // Lid Rises as Wesley peeks out // Full mechanical control of Wesley rising & lowering // Two Ball Launching units // Chosen Ball is found upon Wesley's Head // Card Launching Device which ejects up to 10 cards // Chosen Card is found in Wesley's Mouth // Sound Chip included making 7 different goofy voices of Wesley // Fake Barb Wire which is soft to the touch but looks DEADLY ( Removable if you prefer )
Marcello Contento Card Fountain Owners please note that the Box has been designed for your MC Card Fountain to drop right in if you choose so!!
Please note that the ENTIRE SYSTEM is completely MECHANICAL as NO BATTERIES are required ( excluding Sound Chip ). In the tradition of the Time-Tested Jack Hughes Snake Basket, all the animations are operated BY HAND as you hold the box. Each trigger mechanism is positioned in a natural location with MINIMAL hand movement if any at all. Ready to perform, in complete confidence, at ANYTIME!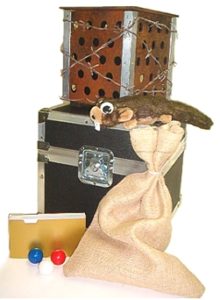 Package includes: (1) Gimmicked Burlap Bag, (1) Gimmicked "Rusty Cage Box", (1) Un-gimmicked Wacky Weasel with sound chip inside body, (1) Video Demo/Instructional DVD (not VHS as pictured), 3 Sets of Balls and an ATA Style Case custom fit for the entire apparatus.
Rusty Cage measures 10″ x 10″ x 10″
~ VAULTED ~
(This effect is no longer available)
Thanks so much for your interest & support!