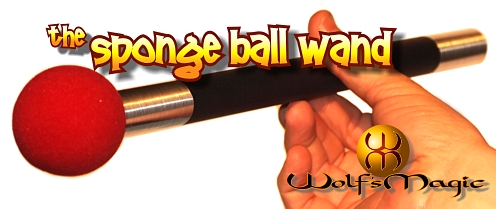 the SPONGE BALL WAND

Created by Chance Wolf
We are happy to present a BRAND NEW line of effects from our Wacky Wolfs series of magic! This new line will maintain the same high quality you have grown to expect but at an economical price!
This has got to be the coolest utility device we have created to enhance ANY Sponge Ball routine from Children's magic to Adult Shows!
The Sponge Ball Wand is based on the Classic Coin Wand workings. Simple and reliable mechanics that allow a 2″ Sponge Ball to be secretly controlled to pop in and out of the wand appearing at the tip.
Watch the Video Demo for just a few ideas possible! We will be posting additional Video Demos showcasing ideas from Oscar Munoz and Arthur Atsma!
IMPORTANT!!
1) This device causes wear and tear on the Sponge Ball. Replacing the Appearing Ball is quick and simple. Be sure to ORDER EXTRA SPONGE BALLS ASAP so you are ready to go at all times. We recommend a Bag of 50 Balls for your Appearing Ball Color choice and Two boxes of 4 Balls for your Color Change Ball Choice.
2) You will need a Hot Glue Gun to attach the preferred Color of Ball and Magnet Shim to your Color Change Ball.
3) The Video Demo shows many ideas that involve additional accessories that ARE NOT INCLUDED! Please note below what is actually included.
Features: Retractable 2" Sponge Ball and a Magnetic End to allow Color Changes etc.
Includes: 14″ Long Sponge Ball Wand, Two Red Sponge Balls, Two Yellow Sponge Balls, Magnet Shim & Instructions.
~ VAULTED ~
(This effect is no longer available)
Thanks so much for your interest & support!