Sobriety Test

Created by Chance Wolf & Brian Cook

I have always wanted to create an effect that combined all elements of a great magic effect. Audience Participation, Natural Props, True Entertainment, MAGIC and outright FUN!! After watching EVERY ADULT experience so much fun with our original "BLOW YUR STACK" trick, I realized the potential of the basic effect…we just needed to tweak the props and plot for it to be more suitable for adults. I called on my good friend Brain Cook to help me complete a new routine idea I was working on. And in the end…
…the SOBRIETY TEST was BORN!
A wonderful routine which is action packed and full of laughs! Great for Corporate Events, Adult Parties and even an alternate NON-ALCOHOLIC Routine which will work for any age audience.
Routine
(please be patient as it is a long routine and this has even been edited down!)
A spectator is asked to join on stage for a little test…well, as you have observed, he may be in need of a Sobriety Test! He is informed that this will be all in good fun however you can never be too sure so he is asked to bring his CAR KEY on stage as well. A Small Gift Box with a Bow on top is resting on the table. The spectator is told that id he passes he will win the prize! The Sobriety Test begins with a simple test of "Which Hand is the KEY In?"
The spectators key is openly shown in the magicians hand, both hands are closed and the spectator is asked which hand is it in. If he guesses right, he passes the test, if not…more tests! He makes a free choice of a hand and is wrong! Let's make it easier…ONE HAND LEFT!…which hand is the key in?!! OOPS..WRONG AGAIN! The key has completely VANISHED!
A series of comical sobriety bits commence leaving the audience laughing all the way along. Finally, after the spectator has FAILED EVERY TEST, he is given one last chance to get his key back. A small bag of items are brought onstage. A Bicycle Horn, Plastic Drinking Cups and a Blindfold. The spectator is told that a competition is in order. If he can stack the cups in a pyramid shape 5 TIMES and faster than you can, then he will receive his Car Key back. You will make it easy on him and stack the cups BLINDFOLDED! Due to being blindfolded, it is required that the spectator HONKS THE HORN every time he completes a stack so the Magician knows where he is at in the competition.
The race is set in motion and goes along with stacking, fumbling and honking until the spectator realizes his CUPS BEGIN TO ERUPT BEFORE HE CAN COMPLETE A STACK! The Magician fumbles along as the spectator continues to try to complete his stacks as they continue to magically ERUPT at the oddest moments…sometimes when he is not touching them at all!
Suddenly, and UNKNOWN to the spectator stacking the cups, a LARGE BANNER ROLLS DOWN FROM THE TABLE reading
"FRIENDS DON'T LET FRIENDS STACK DRUNK!"
The fun winds down as the Spectator finally stacks the cups 5 times just barely beating the Magician. The Spectator is told that he did a good job and is worthy of the Special Gift sitting on the table. The Spectator opens the Gift Box and finds a VOUCHER for a TAXI SERVICE!
The Spectator is asked if he is wondering where he KEY may have gone. The Magi shows his hands EMPTY and slowly reaches to his back pocket and withdraws his Key Pouch. Dangling from his keys is THE SPECTATORS KEY! The magic says that you can never be too careful and always look after your friends! As the saying goes ( pointing to the banner)…
"FRIENDS DON'T LET FRIENDS STACK or DRIVE DRUNK!"
All of this is packed into a Natural looking Deluxe Roll-On Table! The beauty is that you can use this table throughout your show until you are ready to perform the Sobriety Test! Manufactured from the highest Quality Materials available!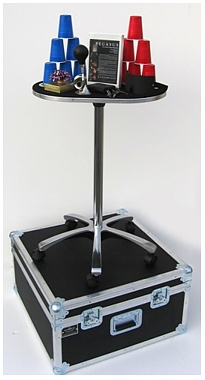 Features
Custom Machined Table Top housing an internal gimmick system which knocks the spectators cups down at the magicians control. Simple lever release drops down Banner which is hidden in tabletop as well. Top is covered in the Highest Quality Pool Table Felt available. Aluminum Trimmed edges.
Deluxe Roll On Aluminum Table Base, Pole.
Pegasus Ring Flight / The BEST Available
High Quality Drop Down Vinyl Banner
Custom Machined Magnetic Cups Stack Guides / Guides store under table.
Dave Powell's Metal Blindfold
High Quality Bicycle Horn
24 Multi Colored Plastic Drinking Cups
Gold Finish Gift Box and Voucher
ATA Case Foam Lined Custom Compartments
Full Instructions and Routines
(Handcuffs NOT included)
~ VAULTED ~
(This effect is no longer available)
Thanks so much for your interest & support!