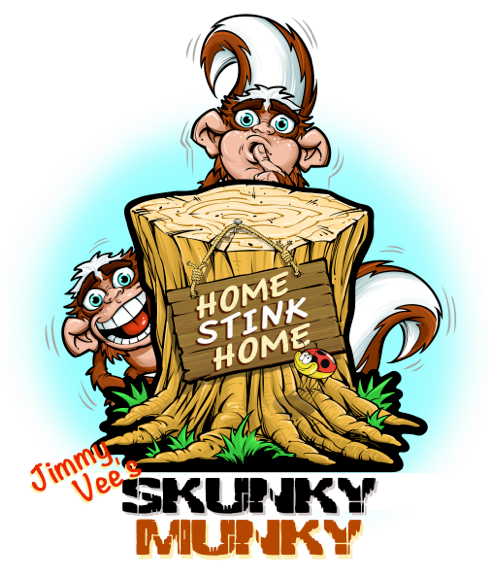 SKUNKY MUNKY

Created by Chance Wolf & Jimmy Vee
Based on the "Roamin' Rabbit by Jack Hughes
The SUPER CREATIVE Jimmy Vee came to me asking if I could build a custom version of a classic Jack Hughes effect however he wanted the character to be his own "Skunky Munky". After much brainstorming, Jimmy and I came up with one heck of a great concept! I took to re-engineering every aspect of the trick taking it to a level never seen before!
It operates SMOOTH and QUIET with additional features such as Magnetic Panel Alignment, Gimmick Panel Indexing System, DiBond Panels, Hi-Impact Styrene Character Cut Outs and our
EXCLUSIVE Digitally Printed BULLETPROOF Decals!
Plus an ADDED routine feature!….the "Pop-Up Tail from Pocket" gimmick allowing an additional place for the little critter to be popping up from driving the kids CRAZY!!
Basic Routine:
The story is told of your little animal friend who likes to hide in his"Home Stink Home" tree stump. A strange looking animal is introduced but nobody is quite sure WHAT he is?
A SKUNK or a MONKEY?!!
He is placed into his stump. The kids are reminded that he RARELY comes out of the stump and the fun begins as the magician works with the kids trying to solve the mystery of what he is.Suddenly the Monkey peeks out from one side, unknown to the magician, as the kids scream MONKEY!! Then the Skunk Tail peaks out from the other side making the kids scream SKUNK!!
~ VAULTED ~
(This effect is no longer available)
Thanks so much for your interest & support!