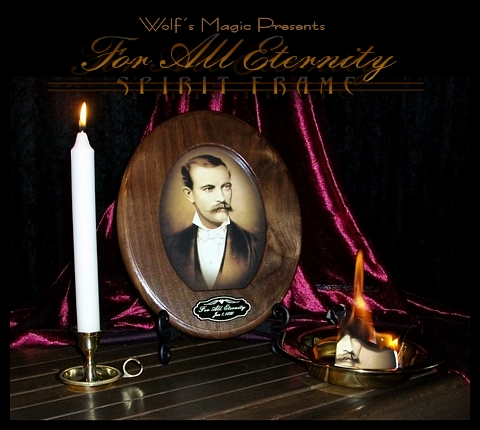 FOR ALL ETERNITY

Created by Chance Wolf
Based on the Classic "Card Frame" however I have taken a new method, created by Dave Fiscus, and wrapped the story and props together creating a overall effect that makes sense. After all, I never could understand why a Playing Card ended up in a Picture Frame! In the end, I believe this to be as much as a GREAT STORY as it is a Magical Effect. What makes this method unlike any predecessor is the fact that the Photo re-appears from the OUTSIDE INTO THE CENTER! It is truly wild to watch. Set-up takes about 2 minutes.
The Custom Picture Frame has been created from SOLID WALNUT with the entire electronic system built within the sidewalls of the frame. The back magnetically attaches for ease in re-set. The apparatus has been designed to be viewed from ALL ANGLES, even from the rear, allowing you full freedom to perform under any condition.
Effect: rather than post the extensive storyline, which is provided, I have created a VIDEO DEMO which will give you a good grasp of the routine. I am sure many of you will take it in your own direction but the story provided is pretty strong,
IMPORTANT NOTICE!! This is a PARLOR/LIVING ROOM EFFECT!! It has not been designed for Close Up. The principle used is best viewed from 8 feet and back.
THIS IS NOT A MODIFIED DIGITAL PHOTO FRAME!!
Package includes: Solid Walnut Gimmicked Frame, Frame Stand, Candle Holder, Candle, Solid Brass Dish, Instructional DVD which includes Music Files and Photo Files for home printing and Brass Engraved/Numbered I.D. Plate. Frame Dimensions: 10 1/2″ Tall x 8 1/2″ Wide
Requires (2) Two AA Batteries / FLASH PAPER NOT PROVIDED!!
Video error: I know Harry Kellar was NOT married to a lady named Cynthia. I screwed up on my research and was too lazy to edit the demo 🙂
~ VAULTED ~
(This effect is no longer available)
Thanks so much for your interest & support!