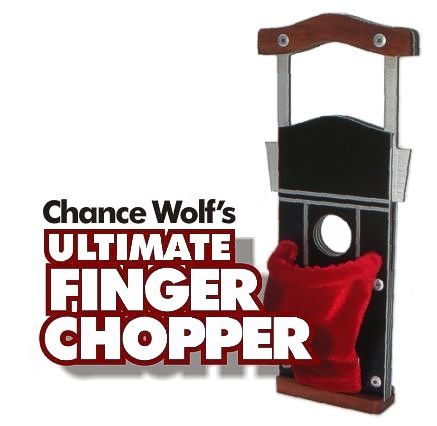 Ultimate Finger Chopper

Created by Chance Wolf
We've taken the classic French Arm Chopper and squished it down to a pocket sized 6 inch tall FINGER CHOPPER! For those of you not familiar with this version of the French Chopper, the spectator's finger VISIBLY FALLS INTO the VELVET BAG!! We've re-engineered it, upgraded the mechanics and materials to far surpass its big brother. This little guy is BUILT TOUGH! The features for this effect include all aluminum and hardwood components, along with a nearly invisible gimmicked area and cute little hand-sewn red velvet bag. The bag has a collapsible rim so the whole unit can fit conveniently into your pocket! This unit also comes in a velvet bag to keep it protected from the elements! Great for the Performer or Collector!
IN STOCK NOW!
 $220 + Shipping
Shipping Terms & Conditions
Please select the shipping option below based on destination (USA, Canada or International).  All US and International shipments include insurance and tracking.  International shipping fees below do NOT include any taxes or import duties your country may impose.  International shipments may take up to 10 days to arrive.  Please feel free to contact us with any questions.
Submit below to be added to the Interested List for this effect!

Thanks so much for your interest & support!