SNAKE  FOUNTAIN



Created by Chance Wolf
I am really excited about my latest creation! It has been on the drawing board for the past couple years and has finally come to life. The ultimate Utility Prop for Kids Magicians, Stage, Comedy and Clowns!! What could be cooler than a Card Fountain??!!
How about a SNAKE FOUNTAIN??!
This is a revolutionary new concept taking the classic Snake Can to the max! Imagine reaching into a box, bag or whatever you may choose looking for your magic wand or special item to aid in your next trick… Suddenly you JUMP BACK as a 40″ SNAKE LEAPS INTO THE AIR!! Not so revolutionary yet huh?..well..there's more!
Quickly you reach back in and BAM!! ANOTHER 40″ SNAKE JUMPS OUT!! The kids begin to SCREAM and LAUGH…
Again… BAM!! ANOTHER 40″ SNAKE JUMPS OUT!!  The kids begin to SCREAM and LAUGH yes even more!!
And AGAIN…BAM!! ANOTHER 40″ SNAKE JUMPS OUT!!  The kids begin to SCREAM and LAUGH even more!!
AND AGAIN!!…BAM!! ANOTHER 40″ SNAKE JUMPS OUT!!  The kids begin to SCREAM and LAUGH as you get your composure, collect the huge pile of snakes and wave them at the audience letting them know that there is no need to call them medics as you have quality Health Scare!
Yes, that is a total of FIVE SPRING SNAKES at the huge length of 40″ shooting out of whatever you decide to place inside this precision machined gimmick! The unit is switch operated. Just flip the switch and a snake ejects out every 1.25 seconds. Runs off of one 9 Volt battery. Resets as quick as it takes to load 5 spring snakes. Compact design 3.5″ tall x 8.75″ Diameter.
The Snake Fountain will fit inside almost anything ( Doctors Bag, Briefcase, Party bag, Gift Box etc.) Use your imagination!
The electronics are of the highest quality! Operation is silent!
To keep the costs down, inventory control and reliability high,
I CHOSE TO NOT ADD A REMOTE CONTROL as it would have increased the price by $150.00
This is a utility item that I am leaving the final routines up to you. Use your imagination as there are just so many ways to use this item! NOTHING has ever hit the market like this and its a WINNER!!
FEATURES:
Alumi-Core Structure: The main Cone is machined from Aluminum Surface/Nylon Core material with an Enamel Baked Finish. Assuring a long lasting, corrosion free prop.
INCLUDES: One Snake Fountain Unit, (5) Five 40″ Spring Snakes with two Storage Cans for Snakes. Complete Instructions with routine suggestions. Size: 9″ Wide x 3 1/2″ Tall.  NOW ALSO INCLUDES RED GIFT BOX!!!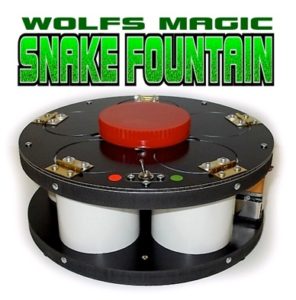 The photo to the right shows ALMOST the entire unit.
I have placed a RED LID over the secret workings of the apparatus to NOT expose the complete workings for obvious reasons but wanted to expose enough of the apparatus for you to make an educated decision to purchase.
NOTE!!
IF YOU'RE INTERESTED IN ADDING (5) EXTRA SNAKES TO YOUR ORDER for an additional $25 PLEASE CONTACT US at magician@wolfsmagic.com!
Out of Stock

(Submit your name and email below to be added to our "Interested List" for product updates!)
$365 + Shipping

Shipping Terms & Conditions
Please select the shipping option below based on destination (USA, Canada or International).  International shipping fees below do NOT include any taxes or import duties your country may impose.  International shipments may take up to 10 days to arrive and we will only offer refunds on lost/damaged shipments if insurance was purchased.  Please feel free to contact us with any questions.

Please use the "Add to Interested List" button below to be notified when this effect is back IN STOCK.
Submit below to be added to the Interested List for this effect!

Thanks so much for your interest & support!