Run Wolf Run 2

Created by Chance Wolf
EFFECT:
The classic plot has been changed and now stars our very own "Wacky Wolf" as the mischievous "Egg Bandit" who raids the Chicken Coop trying to steal eggs to pay his back rent! How else do you think a Wolf pays his rent? With the help from the kids, the Wacky Wolf can never seem to catch a break as he is caught by the kids running back and forth, popping up and down from his house and peaking out from the side of the Coop! All along the magician never seems to see the Wolf and his antics. Eventually, ALL 4 DOORS are opened as the magician tries to find the Wolf only to find he has VANISHED! After the kids have settled down from Laughter and Screaming, the Wolf is finally found hiding in the Magicians pocket or anywhere you prefer!
Mechanically inspired by the Classic "Run Bonzo Run" created by the late great Jack Hughes. We have taken this effect and created a a prop that is Visually and Mechanically SUPERIOR to any "Run rabbit Run" type effect in magic history!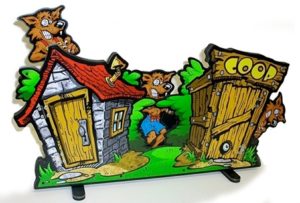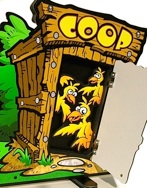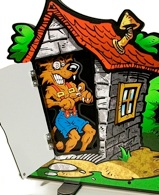 FEATURES:
Alumi-Core Structure: CNC Machined from and Aluminum Surface/Nylon Core material with an Enamel Baked Finish. Assuring a long lasting, corrosion free prop.

Digitally Printed Graphics:  All artwork has been Hand Drawn by Chance Wolf himself and digitally colored. Finally, the art is digitally printed into a rich colored decal and laminated making it nearly indestructible!!

Custom Pivot Arm Assembly: The Pivot Arm Mechanism, which is what makes the Wolf travel back and forth, was custom designed by Chance Wolf giving you the SMOOTHEST operation you have ever seen. We use a Nylon Sleeve Bushing which travels along a 3/16″ diameter Rod. Solid as a Rock and ready to roll!

7″ Tall Wacky Wolf Cut Outs: We made the Wacky Wolf taller than any other version. He stands at 7″ Tall, 1/8″ Thick and is easily visible with his Multi-Color Graphics!

POP-UP Wolf!:  We've added a NEW FEATURE not seen in typical "Run Rabbit Run" effects. The "Pop-Up Wolf". You can POP the Wolf up above the roof of his house at any time which adds another "Look No See" dynamic to this effect!!

Peaking Wolf: The Peaking Wolf" features smooth mechanics and a Rubber Cap covering the Thumb Lever for a comfortable grip.
Rare Earth Magnetic Door Latches: We have embedded Rare Earth Magnets which gives a maintenance free door latching method.
Complete Operating and Routine Instructions included.
Size: 23″ Wide x 12″ Tall x 1″ Thick
Out of Stock
$465 + Shipping

(Use Add to Interested List form below for product updates!)
Shipping Terms & Conditions
Please select the shipping option below based on destination (USA, Canada or International).  International shipping fees below do NOT include any taxes or import duties your country may impose.  International shipments may take up to 10 days to arrive and we will only offer refunds on lost/damaged shipments if insurance was purchased.  NOTE:  Wolf's Magic is NOT responsible for any packages stolen from doorsteps/porches if signature on delivery is not requested.  Signatures are not required for purchases under $500 so please let us know before shipping if you'd like a signature required. Please feel free to contact us with any questions.

Submit below to be added to the Interested List for this effect!

Thanks so much for your interest & support!