Rings of Truth

Created by Chance Wolf
I am really excited about my recent creation as it is not only beautiful to look at but fun to perform and is a true baffler.
Finely crafted to last a lifetime is this expertly machined piece of apparatus using solid Walnut and secret Brass workings on the inside and out. This is a clever mechanical method of divining a secretly chosen ring with NO ELECTRONICS involved and easy to perform leaving you the ability to focus on your performance! I would love to show the inner workings but the discovery is half the fun 🙂 Supplied are three very high quality rings (Rings may vary from picture) and the Ring Box was topped off with a beautiful yet subtle Brass Filigree and Solid Brass Feet.
Basic Routine: A story is woven explaining how people lie and the methods of discovering the truth. No matter how good the lie is told, a "tell" is always revealed. It takes a sharp eye to see the truth. The Magician asks to demonstrate his point. A beautiful Ring Box is opened revealing three Rings of different colored jewels. The box is closed and handed to the spectator. The magician turns his back and the spectator is asked to open the box, remove any one of the three rings and place it into his closed hand then close the box. The spectator is asked to place the closed hand with the ring in it over the covered box.
The Magician turns around producing a black silk (included) and immediately covers the spectators hand and box. The spectator is asked to gaze into the Magicians eyes. The Magician begins a series of personal questions picking up "tells" in order to warm up to the final divination. The final question is which ring the spectator chose. The box is uncovered and the spectator opens their hand to see the Magician is correct!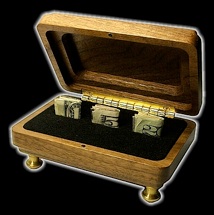 The routine is open for many interpretations and is up to you of course and is also an
excellent way to introduce a Ring into your favorite Ring on String routine!
Includes: Solid Walnut Gimmicked Ring Box, 3 High Quality Rings, Black Silk,
Brass Engraved/Numbered I.D. Plate which is secreted below the Ring Tray.
Comes Gift Boxed with complete instructions and routines.
Rings of Truth Box Dimensions: 4 1/2″ Wide / 3″ Deep / 2″ Tall
Additional Routine concept by Oscar Munoz called
"LET'S MAKE A DEAL" using folded Currency.
(PAPER CURRENCY IS NOT INCLUDED!!)
Out of Stock
$365 Free US Shipping

Shipping Terms & Conditions
Please select the shipping option below based on destination (USA, Canada or International).  International shipping fees below do NOT include any taxes or import duties your country may impose.  International shipments may take up to 10 days to arrive and we will only offer refunds on lost/damaged shipments if insurance was purchased.  Please feel free to contact us with any questions.

Submit below to be added to the Interested List for this effect!

Thanks so much for your interest & support!