Payneful Card Rise

Created by Payne / Designed by Chance Wolf
Master Payne has been generous enough to offer the magic community one of his Classic routines done in typical Payne fashion. A well thought out routine and prop that delivers ENTERTAINMENT the way it should! He has taken the Card Rise effect and given it a final twist leaving the magician completely frustrated and the audience laughing.
For the final production model, I began with Payne's basic concept then, as expected, took the design over the top adding in extra features such as a LARGE FLASHING LED and Layered Hi-Tech facing and whatever else I could throw onto the unit! The Jumbo Remote Control was built from scratch using high quality materials and the Layered Dimensional Graphics we are so well known for!
I had a great time working with Payne on this project and am very happy with the final result!
Includes: Custom Gimmicked Deck, Custom Gimmicked JUMBO Remote Control, Jumbo Card, Gimmicked USB Cable, Comedy Instruction Sheet, and Standard Instructions. Battery INCLUDED for Flashing LED.
Comes in Red and Blue Back Bicycle Gimmick Deck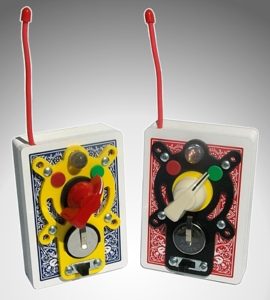 Out of Stock

Red Available ONLY!
$180
Free US Shipping

 Shipping Terms & Conditions
Please select the shipping option below based on destination (USA, Canada or International).  International shipping fees below do NOT include any taxes or import duties your country may impose.  International shipments may take up to 10 days to arrive and we will only offer refunds on lost/damaged shipments if insurance was purchased.  Canada and International shipping options below are for USPS International 1st Class shipping and DO NOT include insurance.  Please feel free to contact us with any questions.

Submit below to be added to the Interested List for this effect!

Thanks so much for your interest & support!