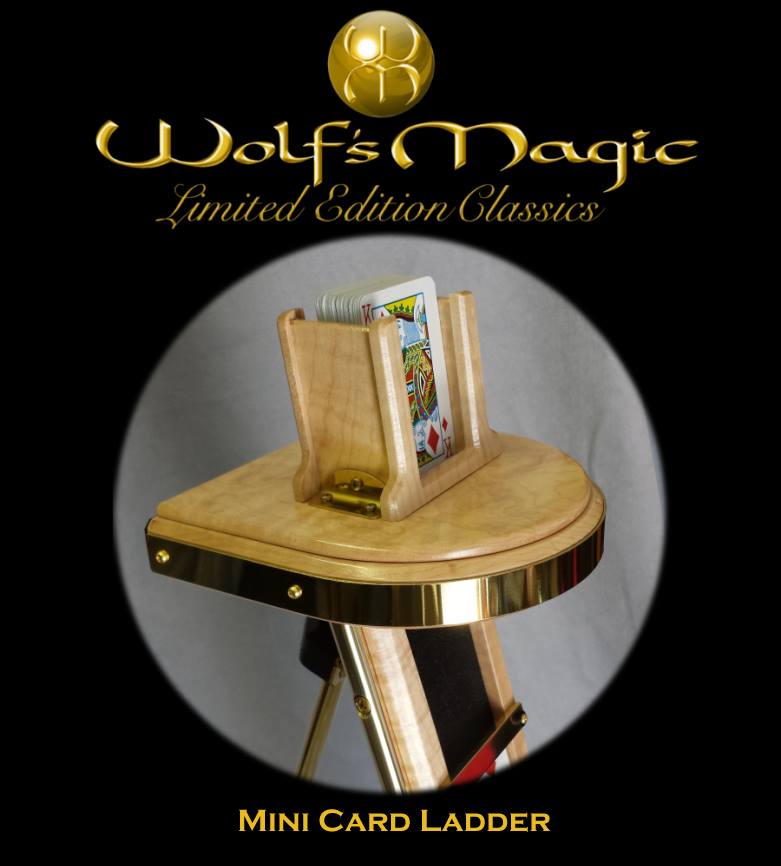 MINI CARD LADDER

Created by Chance Wolf
"We are proud to release one of the most elegant piece's of magic apparatus we have ever create, the Mini Card Ladder"
Inspired by the original P&L Card Ladder, with permission from David Haversat, current owner of the P&L rights, and special thanks to Dexter Cleveland for the Mini Sized inspiration, we have completely re-engineered the mechanics and shrunk it down to 32" tall. A perfect table top size using Mini Playing Cards for the effect.
The Card Ladder is one of the most sought after pieces as so few were ever made. It is clearly a unique piece of magic apparatus with a very magical effect.
Each unit is hand built by Chance Wolf and will never be made again! The operation is simple and reliable and the effect is a classic. A once in a lifetime opportunity to obtain a museum quality magic piece that will be the holy grail of anyone's collection.
Features:
  Fabricated from solid Quarter Sawn Flame Maple
  Hand Sanded and Polished to a 3000 grit glass like finish
  Hand Polished Solid Brass Hardware
  Reliable solid Electronic Operation
  Light Duty ATA Case w/ Custom Fit Foam.
  Brass engraved Numbered ID Plate w/ Certificate of Authenticity.

Effect: Three cards are chosen by different spectators and are then lost in the deck. The Card Ladder is revealed. A silk is removed (not included) and placed into the glass below. The cards are placed into the Houlette, on top of the Card Ladder, and a magical gesture is made. The cards begin to VISIBLY drop from the Houlette, cascading down the ladder, landing in the glass below and ending with the THREE CHOSEN CARDS stopped at three different rungs of the ladder! Very visual magic perfect for your office or Parlor Magic!"
                                
Thanks so much for your interest & support!