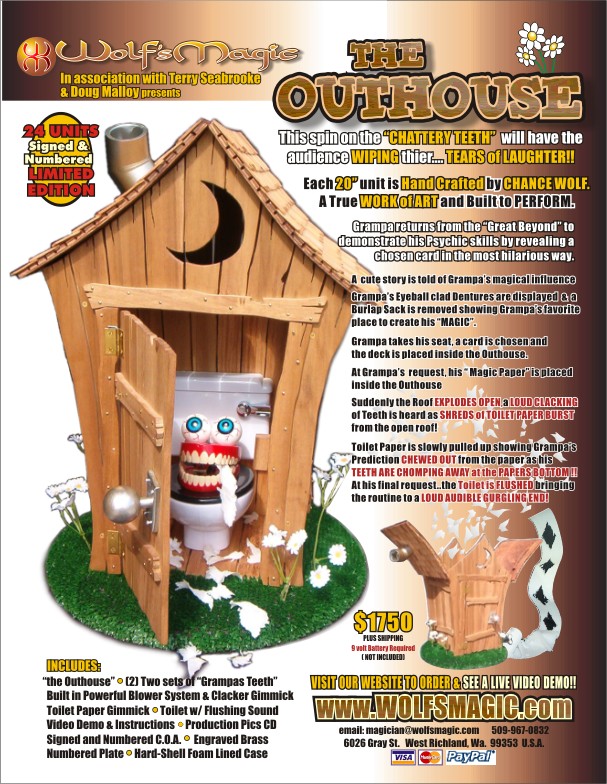 The Outhouse

Created by Chance Wolf
In association with Terry Seabrooke & Doug Malloy
I have begun this year by launching a new line of Limited Edition High End Magic effects. This new Limited Edition line of magic will include Classic effects as manufactured in the past yet updating the mechanics, structural modifications and in most cases the quality of the materials themselves. Each effect will be built under painstaking conditions paying attention to every detail right down to the last brass screw. Each and every piece will include a Certificate of Authenticity and an Engraved Nameplate to verify its Number and Authenticity as well as Hand Signed by Chance Wolf. Sure to be true Collectables. We GUARANTEE that when we say "LIMITED EDITION…WE MEAN IT! These items will NEVER BE PRODUCED AGAIN.
This spin on the "CHATTERY TEETH" will have the
audience WIPING their…. TEARS of LAUGHTER!!
Each 20" unit is Hand Crafted by CHANCE WOLF
A True WORK of ART and Built to PERFORM. Solid Poplar Wood construction with Hundreds of Hand Applied Shingles, Brass mini nails decorative, Raised Astro-Turf Base, cute little Daisies and endless details to appreciate. I am most proud of this effect as it is a Living Cartoon that gets the LAUGHS!
Grandpa returns from the "Great Beyond" to demonstrate his Psychic skills by revealing a chosen card in the most hilarious way.
Basic Routine: A cute story is told of Grandpa's magical influence on the magician. The magician demonstrates how , when he was a child, that Grandpa borrowed $5 from him and visibly CHANGED IT into a MAGIC DIME! ( Grandpa was a real shyster 🙂 The magician continues to explain that Grandpa has passed on since then but a little bit of him still lives inside the magician as well as.."THIS GLASS!" A cloth is whisked away from a small glass showing what is left of Grandpa. Grandpa's Eyeball clad Dentures are removed from the glass. The audience is told "Even from the GREAT BEYOND, Grandpa is still a bit of a HAM! Tonight he will demonstrate his Psychic & Magical Skills!". A Burlap Sack is removed showing Grandpa's favorite place to create his "MAGIC".
Grandpa takes his seat, a card is chosen and the deck is placed inside the Outhouse. At Grandpa's request, his " Magic Paper" is placed inside the Outhouse.
Suddenly the Roof EXPLODES OPEN, a LOUD CLACKING of Teeth is heard as SHREDS of TOILET PAPER BURST from the open roof!
Toilet Paper is slowly pulled up showing Grandpa's Prediction CHEWED OUT from the paper as his
TEETH ARE CHOMPING AWAY at the PAPERS BOTTOM !!
At his final request. the Toilet is FLUSHED bringing
the routine to a LOUD AUDIBLE GURGLING END!
ONLY 24 UNITS MADE/SOLD (+ 1 Artist Proof)

Original Price of $1750
Thanks so much for your interest & support!