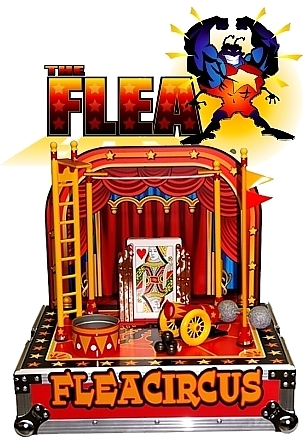 The FLEA

Created by Chance Wolf
Based on the Original Effect "On Target" by Christian Thee.
It was brought to my attention that the true inventor of this type of effect was Christian Thee. George J. Cook was hired to build the prop. This may be the first time he has ever been acknowledged in a public forum, or in PRINT, for his fantastic creation "On Target" which all following versions were based on. I would like to personally THANK Christian for his inspiration for the FLEA!
A perfect effect for Adult or Children's shows and plays to a VERY LARGE Audience as every animation/action is large and visible!!
Our most elaborate Magic Creation to date and it will leave your audience "scratching" their heads (and maybe themselves) with Amazement & Laughter as your audience will join in the adventures with BRUNO the World's Strongest FLEA!
Routine: An elaborate Flea Circus rests on a table and the show begins.
"Ladies and gentlemen! Step right up to witness the EIGHTH WONDER of the WORLD! BRUNO the WORLD'S STRONGEST FLEA. He may be small but packs a big punch, as you will witness feats of strength and psychic ability second to only the late great Fleadini who suffered a tragic death in the Flea Collar of Death Escape!
A small tin labeled "FLEAS" is opened and a series of silly jokes are told as you attempt to pick Bruno from his surly bunch of Flea Friends. Bruno is placed upon your fingertip."Folks, witness the astonishing…BRUNO!! An amazing example of symmetry and…what you say? You cannot SEE him? Maybe this will help!"
A GIANT 9" Magnifying Glass is removed and is placed in front of your fingertip.
A magnified image of a cartoony Bruno is seen as he poses in his famous Flex Stance."Stop hamming it up Bruno, we have a show to do!" At this point, a series of recommended Flea Show bits are performed as you see fit. After the silliness comes to an end, Bruno is set on the table and a spectator is selected to help with the demonstration. It is explained that the spectator may choose "any" card in the JUMBO deck.
The THREE of CLUBS is selected. The show-time sign is removed and the chosen card is placed inside the decorative Houlette resting on the center of the Flea Circus Stage.
"Bruno will perform his greatest feat of agility and sheer brute force as we will place him in this peashoter. At my SIGNAL, with all the lung force you can manage, you will shoot him through the air as Bruno borrows his head at 10 G's of force straight into the deck and will manage to stop at the EXACT CHOSEN CARD!! Amazing…no…a MIRACLE!!!..well a miracle if he lives."
Bruno is picked up from the table and suddenly you HEAR BRUNO BEGIN TO SPEAK in protest! As he begins his wisecracks the spectator is signaled to shoot! A CARTOONY SOUND EFFECT IS HEARD (Sha-boyong!) and the FLAGPOLE FLIES OFF THE TABLE!!
Bruno is found lying in the pool, is picked out, wrung out and the second attempt is made. Once again BRUNO BICKERS IN PROTEST as he is loaded in and shot at the cards.
ANOTHER CARTOONY SOUND EFFECT IS HEARD (Kla-Dang-Zip-TOING-BaWONG-Doink-Sha-TANG!!) as you mimic the Flea bouncing and ricocheting around the stage until he hits the stage area and the FLEA CIRCUS SIGN BREAKS AWAY and is left swinging by one bolt!!! Bruno is found lying on the deck. Picked up and dusted off. Silent banter begins between the performer and Bruno. What? She needs more time and the shooting range? Hey, she's no marksman but she's giving it her best shot! You what, Bruno? You want to do this your own way?? How? OK…got it!
Ladies and gentleman, Bruno is so proud of his non-steroid induced muscular prowess that he would like to give you a demonstration of his strength. I am not sure what he has planned but I am sure it will astound you! Bruno, I recommend that you warm up first."
Bruno is set upon the performers palm. A small Barbell is shown and placed into Bruno's grip.
The BARBELL BEGINS TO BOUNCE ABOUT AND RISE IN THE PERFORMERS PALM! "OK Bruno, that's enough now let's see your stuff!" Bruno is set in front of the Houlette. A small pause then A DEEP GRUNTING SOUND IS HEARD AS A CARD BEGINS TO INCREMENTALLY NUDGE UP FROM THE DECK!
"EEEIINGH!!" Card rises a bit. "EEEIINGH!!" Card rises a bit. "EEEIINGH!!"
Come on folks, let's cheer him on! BRUNO! BRUNO! BRUNO!"
"EEEEEEEEEEIIIIINGH!!" THE CARD RISES UP IN FULL VIEW!
"The TWO of CLUBS!! Let's hear it for Bruno!! Mam, are you amazed at Bruno's prowess? What?!! It was NOT the TWO of CLUBS?!! Oh….oh….BRUNO!!! You know what happens when you fail!! Put your helmet on little guy…it's time for the CANON! No? Yes! You know the rules. When you blow a trick, you must enter the Ca…what? Flip a coin for it? Sure." Performer removes a large coin from pocket and rests it on top of Bruno.
OK Bruno, call it. Tails?" PA-CHING!! The COIN VISIBLY FLIPS IN THE AIR!!
"Sorry Bruno. It's Heads. Now time to stick your head in the Canon."
Bruno is placed in the canon and it is handed to the spectator. She pulls the string as a BURST OF GLITTERING CONFETTI EXPLODES as Bruno flies across the stage and a LARGE BLACK SPLAT APPEARS IN THE CENTER OF THE CARD CREATING THE MISSING PIP!!!! The card is removed from the Houlette. "Ladies and Gentleman! The THREE OF CLUBS!! No need to worry folks! Bruno is just fine! SEE!!
The Jumbo Magnifying Glass is placed over the card and THE SLIGHTLY SQUISHED BRUNO IS SEEN SMILING WITH A WAVING GESTURE!!
"The EIGHTH WONDER OF THE WORLD…BRUNO!!!"
End.
Needless to say, this can be a complete 15-20 minute act! There are plenty more bits of business included in the instructions with hilarious Routine bits from:Oscar Munoz, Shawn Farquhar, Brian Cook, Arthur Atsma and more.
The FLEA includes:
We have chosen to use only the highest grade Electronic Components to give you a worry free performance including:
2" x 2" Remote Control Transmitter along with a Rolling Code Receiver to eliminate any accidental interference.
25 Watt 4 Voice Sound Effects System powering a 3.5" high grade Speaker.
Silent Low RPM Card Rise Motor System.
RCA Sound Output allows you to plug the Sound Effects output through your PA system.
Highest Grade Solenoids for Animation Activations.
Also includes:
Oversized Flea Stage Props for better visibility compared to standard Flea Circus props. ( Tight Rope & Poles, Diving Board and Pool, Flagpole, Canon and Canon Balls. The upright Poles and Houlette are Magnetically set into place.
6" Party Popper Canon and Canon Balls. Custom built in our shop (Thanks Payne for the great idea!)
Custom Flea Tin & a Custom Wolf's Magic Coin!!
Double Image 9" Round Jumbo Magnifying Glass with artwork by Chance!
Digitally Printed, laminated Vinyl Stickers for Backdrop and Stage Floor. The highest quality "BULLETPROOF" material available.
SOLID ATA Rated Red Case encloses the entire unit.
Separate Aluminum Case to store Stage Props and cards etc.
VERY quick set up including gimmick setting.
Table Base NOT INCLUDED.
ONLY 36 UNITS MADE/SOLD
Original Price of $2995
Thanks so much for your interest & support!