I SCREAM!

Created by Chance Wolf
EFFECT: The magician reminisces of his childhood days and how much he loved a certain type of treat during the hot Summer days but he just can't quite remember what the treat was called. Of course the kids begin to yell ICE CREAM! The magician mistakes what they are saying for the words "I SCREAM" and the fun begins. Finally he understands their intent and begins a very magical demonstration proving that "when life hands you VANILLA" you must make the best of it!
Five Vanilla ice cream bars magically change to FIVE DIFFERENT FLAVORS in various ways using the magical "Flavor Napkins". After each magical flavor change, they are placed in holder slots in the base. The magician is left with five "Flavor Napkins" and a big scoop of VANILLA in the large cone. The napkins are too small to perform the next feat of magic so the magician MAGICALLY TRANSFORMS the FIVE SILKS INTO ONE LARGE RAINBOW CLOTH!
( Change Bag or your favorite switching device is needed. To reduce costs, THIS IS NOT INCLUDED! )
The magician cannot decide what flavor he likes the best so he MAGICALLY TRANSFORMS THE SCOOP OF VANILLA TO A LARGE SCOOP OF RAINBOW SHERBET!
FEATURES:
Alumi-Core Structure: The main Cone is machined from Aluminum Surface/Nylon Core material with an Enamel Baked Finish. Assuring a long lasting, corrosion free prop. Ice Cream Bars and Base fabricated using Sintra Plastic.
Quik-Lok Base: Chance has engineered the coolest new locking device for the "Prop to Base" attaching. You will LOVE this new concept!
Digitally Printed Graphics! All artwork has been created by Chance Wolf himself and digitally colored. Finally, the art is digitally printed into a rich colored decal and laminated making it nearly indestructible!!
INCLUDES: Ice Cream Cone, Five Ice Cream Bar Paddles, Quik-Lok Detachable Base, Five Colored 12″ Silks, One 24″ rainbow Cloth, Draw String Storage Bags and complete Instructions with full routine. Size: 10″ Wide x 17″ Tall
(Change Bag or other transformation device is required / NOT Included!)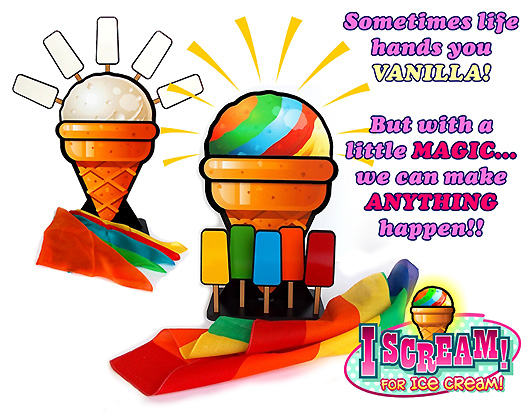 Thanks so much for your interest & support!