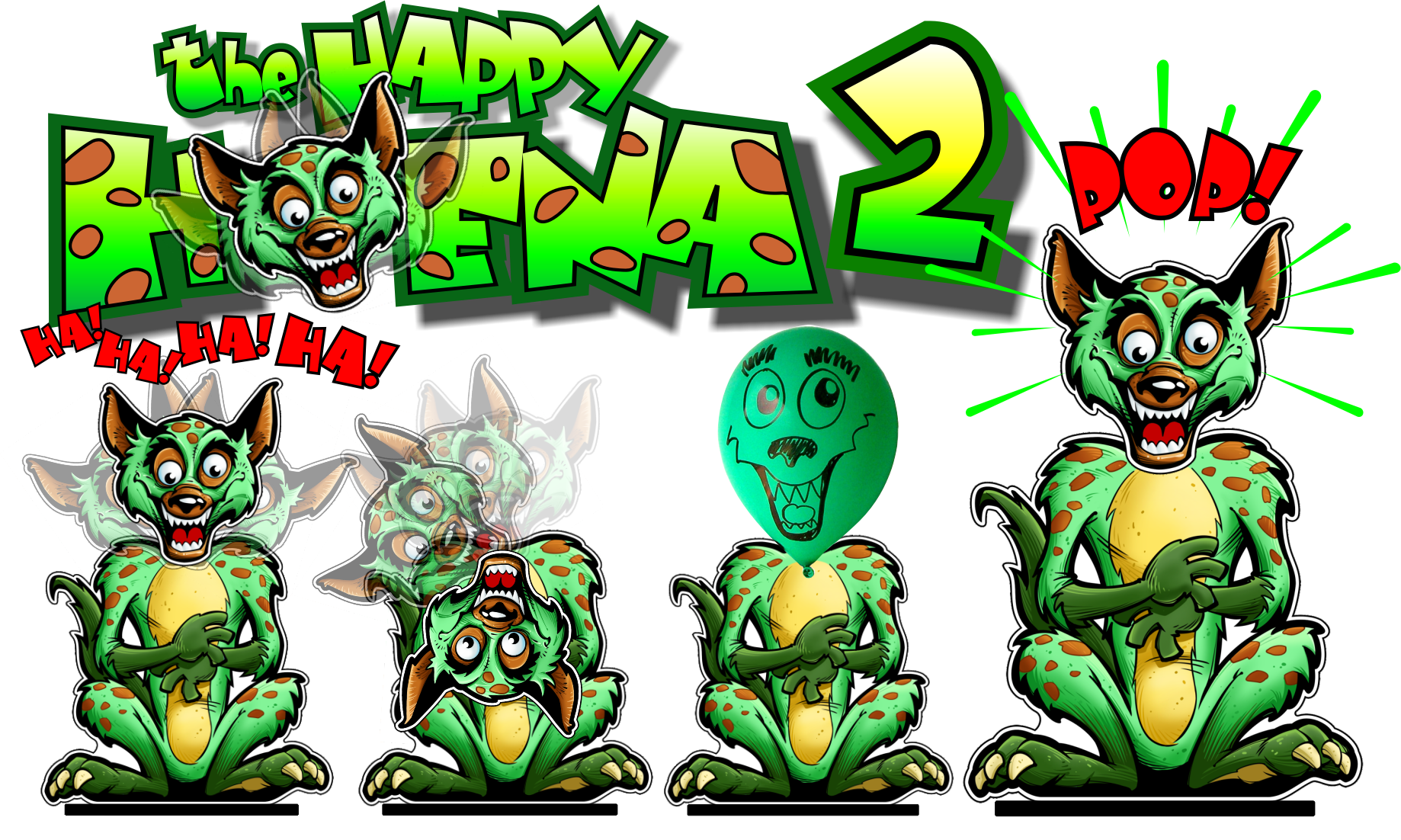 Happy Hyena 2
Created by Chance Wolf
The "HAPPY HYENA" is our take on the classic "Forgetful Freddie" routine. We have given this prop the Wacky Wolf Facelift and brought it up to a whole new level! The prop now has motivation and a fantastic routine written by Arthur Atsma ( with input from Greg Carter & Chance Wolf ). This prop is built to give many years of Laughter.
Routine: This is a BASIC synopsis of a well developed routine which will be sure to entertain!  The routine is based on a competition between 3 kids to tell their best joke! All three kids are brought on stage and a series of great bits take place as the kids tell their jokes the Happy Hyena ACTUALLY LAUGHS as his HEAD SHAKES BACK and FORTH! The laughter continues leading up to the Happy Hyena HEAD SPINS DOWN AND SWINGS ABOUT laughing his head off! The magician explains that the Hyena's who have spots actually communicate through laughter and this particular guy has too many spots as he can't seem to stop laughing. A Cloth Bag (Devil's Hank now INCLUDED) is brought out along with a Bottle of"SPOT REMOVER". The Hyena's Head is placed in the bag and the "Spot Remover" is squirted into the bag, the bag is rubbed a bit, more spot remover, more rubbing then…OOPS!! The bag is opened and the HEAD HAS VANISHED!! Sorry kids, we seemed to have used too much Spot Remover!! The kids are now asked to use TEAM WORK to magically return the Hyena's Head! Working together, the kids blow up a balloon, draw a face on it and place it on the Hyena's body. All together, the kids scream the magic words and…POP!…the BALLOON EXPLODES as the HYENA'S HEAD MAGICALLY REAPPEARS!!
FEATURES:
Shaking Head: We have created a new effect in which the head shakes back and forth as the Hyena laughs his spots off. The head is mounted with Rare Earth Magnets at a lower pivot point. To create this effect, you simply hold the prop by the base and give it a little jiggle which in turn shakes the Hyena's head back and forth.
Laugh Box: An electronic Laugh Box has been installed to the back giving the Hyena the ability to actually LAUGH! (9V Battery NOT included)
Heavy Duty Spring Hinge:  We have added a powerful, heavy duty Spring Hinge to allow many years of continuous use.
Alumi-Core Structure:  CNC Machined from and Aluminum Surface/Nylon Core material topped with an Enamel Baked Finish. Assuring a long lasting, corrosion free prop.
Includes: Happy Hyena, Base, Laugh Box, 15 Balloons, "NO-SPOT" Spray Bottle & Complete Operating and Routine Instructions included. Also, now included is a custom made Devil's Hank by Beverly Atsma.
Size:  21″ Tall x 12.5″ Wide x 1″ Thick
Out of Stock
$275 + Shipping

(Please see shipping options below)
Shipping Terms & Conditions
Please select the shipping option below based on destination (USA, Canada or International).  International shipping fees below do NOT include any taxes or import duties your country may impose.  International shipments may take up to 10 days to arrive and we will only offer refunds on lost/damaged shipments if insurance was purchased.  Please feel free to contact us with any questions.

Submit below to be added to the Interested List for this effect!

Thanks so much for your interest & support!