DINO EGG



Created by Chance Wolf
DINOSAURS are HOT right now!! As a matter of fact, kids have ALWAYS LOVED Dinosaurs   We have taken an old CLASSIC magic effect BACK IN TIME to create a wonderful way to not only ENTERTAIN the kids but   EDUCATE them as well. A wonderful and fun story has been woven taking the kids on an adventure back in time to discover the mysteries of the evolution of Dinosaurs!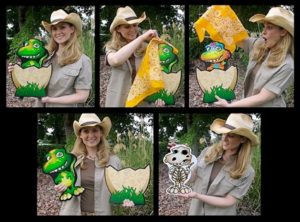 ROUTINE
The magician takes his audience back in time, 65 million years ago to the Cretaceous Period to solve a scientific mystery. Using the help of the audience the Great Fossilini tries to determine whether dinosaurs were more like Lizards, as their name suggests, or more like birds. The magician explains how the dinosaur in the egg will magically change from lizard to bird, that is, if dinosaurs were more like birds. The magician continues to change the dinosaur back and forth, proving dinosaurs were like lizard AND birds. The audience discovers his method of magic and develops doubt that the Great Fossilini has the magic skills he boasts of. The magician is shocked at the accusation and explains how important it is to ALWAYS believe in magic, because if you don't, the dinosaurs will disappear and we will be left with only fossils. The magician then amazes the audience with an unexpected boney surprise.
PROP
The prop has been fabricated from a STURDY Aluminum composite with an enamel baked finish. The Graphics are made from our exclusive Digitally Printed Vinyl Decals which are thermally laminated giving a near BULLETPROOF protection!! I can assure you the quality of this prop will far surpass your expectations and last for MANY years to come!
IN STOCK

(ONLY 3 LEFT!)
$265 + Shipping

Shipping Terms & Conditions
Please select the shipping option below based on destination (USA, Canada or International).  International shipping fees below do NOT include any taxes or import duties your country may impose.  International shipments may take up to 10 days to arrive and we will only offer refunds on lost/damaged shipments if insurance was purchased.  Please feel free to contact us with any questions.

Thanks so much for your interest & support!
Submit below to be added to the Interested List for this effect!