CRAZY COOP
Created by Chance Wolf
One of the WILDEST ACTION & COMEDY PACKED routines you have seen in a long time! The CRAZY COOP will have the audience screaming as this silly chicken goes about her "fowl" way of performing a mentalism act! I have combined two of my greatest selling creations ( The Outhouse and The Wacky Weasel) into one BARN BUSTING effect that is sure to please kids as well as ADULTS! This is NOT A LIMITED EDITION item! Each unit includes a numbered placard.
BASIC ROUTINE:
The magician tells the tale of his pet chicken Sydney…an EGGstra-Ordinary Chicken! For this is Sydney the PSYCHIC CHICKEN! The CRAZY COOP is revealed and the lid is opened. A CLUCKING SOUND is heard from inside the coop. Sydney is coaxed to come out and RISES UP FROM THE COOP clucking and looking downright silly! Sydney is introduced and is asked if she would like to perform her amazing mental feats of psychic abilities. But she needs to warm up with a simple task.
Three different colored eggs are shown and a member of the audience is asked to "choose" a color (magicians force) Let's say the RED egg is chosen. The eggs are thrown into the coop. Sydney pops her head up and then back down. Clucking is heard as the BLUE EGG SHOOTS OUT OF THE COOP! Still more clucking and suddenly the GREEN EGG SHOOTS OUT OF THE COOP!
Hmmm…it looks like she may have it!
Sydney pops up with a FRIED EGG IN HER MOUTH Well, I guess that is close enough but Sydney…
that is just plain wrong!
Sydney returns down into the coop and her big prediction is about to begin. The magician explains that she has an AMAZING REVELATION that he has never seen himself. Another spectator is asked to "choose a card" (forced) or if working with kids "choose and object" (forced / objects not provided) Sydney slowly peaks up with her blindfold lifted over one eye. SYDNEY!! It's NOT MAGIC if your a CHEATING CHICKEN! Now get back down there!
A large sheet of newspaper is shown and folded up then placed into the Crazy Coop. Sydney takes a pops up and indicates she is ready to give it a crack!
Now for the BIG EVENT! A small blindfold is placed over Sydney's eyes to prevent her from peaking.
The clucking begins and suddenly the CHICKEN SONG BEGINS TO PLAY!! Sydney's head begins to pop up every time the song clucks then SHREDDED NEWSPAPER BEGINS TO BLOW UP AND OUT OF THE CRAZY COOP!
The magician asks Sydney to reveal her great Psychic Prediction…however she just pops her head up. The magician speaks to Sydney under his breath asking what the heck is going on the he yells "What?!! YOU ATE IT?! Well you know what THAT means?! I'm so sorry folks but it looks like this may be a LONG wait! OK Sydney, get back in your coop and do what you have to do!!
The clucking sounds begin as the progress to a HUGE SQUAAAAK!!!!
THE FRONT DOOR FALLS OPEN! OUT ROLLS A HUGE EGG! The egg is opened and INSIDE IS THE FOLDED NEWSPAPER! When it is unfolded, CHEWED OUT OF THE CENTER IS THE SHAPE OF THE CARD PIPS OR SHAPE CHOSEN BY CHILD!!
"Yes, that was one MAGICAL prediction! But the REAL MAGIC is that Sydney is a ROOSTER!!"
Sydney comes up for HIS last CLUCKING BOW!!!
FEATURE PACKED!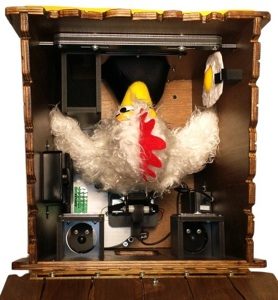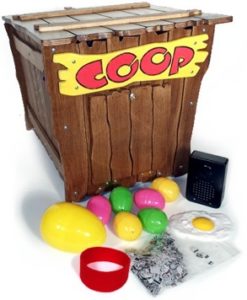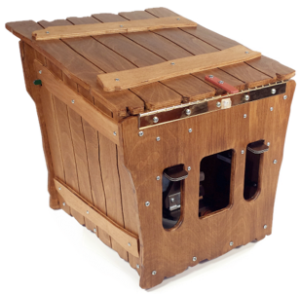 FEATURES:
Construction: Built using 3/8" thick Baltic Birch Plywood! This thing is solid as a ROCK!
Lift System: Heavy duty thumb operated chicken lift system operated from the rear of the Coop with no visible arm motion.
Multi Track Sound Device: A battery operated module is mounted on the inside of the Coop having a large button that, when pressed runs through a series of digitally recorded custom chicken sounds which play to the actions of each phase of the routine.
Also includes the "Chicken Song" for a hilarious phase while he shreds the newspaper!
Confetti Blower: Powerful and QUIET Blower Motor with a custom designed confetti dispersing unit.
12 Volt Lithium Ion Rechargeable Battery: Long lasting power to operate the Confetti Blower. 2-4 Hour recharge. Charger included.
Eggs Launchers: Two heavy duty Egg Launchers are mounted to the rear inside of the Coop operated by the thumb from the rear.
INCLUDES:  Chicken Coop, Two Large Plastic Eggs, Six Small Plastic Eggs, Magnetic Plastic Fried Egg, Starter Confetti Pack, Battery Charger and complete Instructions.
Dimensions: 13″ Tall / 12.5" Wide / 15" Deep
Weight: 11 Pounds

Out of Stock
$1,395.00 + Shipping

Shipping Terms & Conditions
Please select the shipping option below based on destination (USA, Canada or International).  International shipping fees below do NOT include any taxes or import duties your country may impose.  International shipments may take up to 10 days to arrive and we will only offer refunds on lost/damaged shipments if insurance was purchased.  Please feel free to contact us with any questions.

Please use one of the "Add to Interested List" buttons below to be notified when this effect is back IN STOCK.
Submit below to be added to the Interested List for this effect!