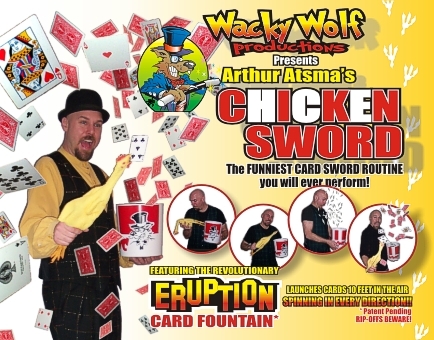 This is a Wolf's Magic EXCLUSIVE and will be SOLD NOWHERE ELSE!
Arthur Atsma's Chicken Sword

Arthur Atsma's Signature effect!! A Fun Filled, Laugh Packed Routine featuring the Revolutionary CARD ERUPTION FOUNTAIN!! (C) 2003-2019 Wolf's Magic
Magician offers to perform the most artistic of all magic tricks. Years of hours of practice for this, the pinnacle of the art…"The Amazing Chicken Bucket and Deck of Cards Routine!"
Many laughs follow as "Gus the stunt chicken" is removed from an all so familiar looking bucket of fried chicken. A series of HILARIOUS stunts with the rubber chicken follow, ending with his DEMISE. "Oh well", on with the trick.
The audience as a group select a card, which is lost in the deck and then "artistically" dropped into the chicken bucket. Holding the bucket, the magician claims that he will cause the card to magically and beautifully float out of the bucket and he will catch it on the tip of his magic wand. Unable to locate an appropriate wand "Gus" is picked up, "guess this will have to do.", and waved over the bucket. Nothing happens so the magician puts down "Gus" and looks into the bucket.
"POOF" a cloud of feathers flies out of the bucket into the magician's face and into the air. Startled, the magician picks up "Gus" and tries again….this time a few cards spin singly out of the bucket high into the air, then the most amazing spectacle of cards flying spinning, shooting up to TEN FEET into the air fill the entire stage space.
The audience does scream, "Gus" is thrust into the storm of cards, and to the delight of all, their card is caught in his beak!
"This is entertainment at it's finest. Yes, it is a rubber chicken card sword, but Oh so much more! This routine has been a staple in my show for the past several years, and never fails to entertain every audience I have used it in. This plays in the largest hall or the smallest living room. From the most sophisticated CEO to the youngest child at the party. You will love practicing this, your audience will love you for performing it." -Arthur Atsma
Featuring the Wolf's Magic
"The Original" ERUPTION CARD FOUNTAIN
This Revolutionary new Card Fountain is sure to BLOW YOUR MIND! Check out the following features!
1) Holds up to 100 CARDS!
2) Launches cards spinning in all directions of over 10 FEET!
We can assure you this effect is built SOLID and will please the working pro or weekend warrior! We thank Arthur for trusting us to Streamline and Build his Signature effect!
You receive: One Un-gimmicked Latex Rubber Chicken. One Gimmicked Latex Rubber Chicken Card Sword. The Revolutionary NEW CARD ERUPTION Fountain (C) 2003 Wolf's Magic and the Feather Launcher gimmick all built into a Custom unbreakable plastic Chicken Bucket with Custom Vinyl Graphics. Instructional link showing you Arthur's INCREDIBLY FUNNY routine from START to FINISH as well as a step by step segment on set-up and performance tips. ( Requires one 9 volt battery not included )
Out of Stock
$465 + Shipping 
Submit your name and email below for availability updates!
Shipping Terms & Conditions
NOTE!! USPS fees listed below for US Priority Mail MAY be higher than the actual charge depending on location (west coast is less expensive).  Any overcharges will be refunded via Paypal.  Please email us with questions, [email protected].
Please select the shipping option below based on destination (USA, Canada or International).  International shipping fees below do NOT include any taxes or import duties your country may impose.  International shipments may take up to 10 business days to arrive.  Please feel free to contact us with any questions.

Submit below to be added to the Interested List for this effect!