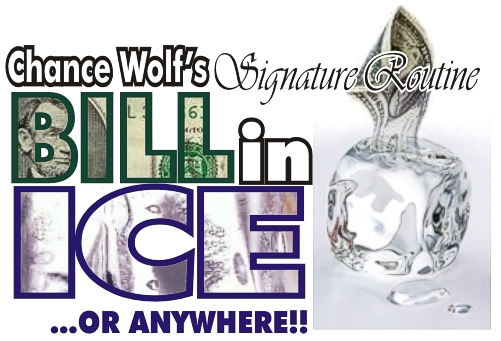 Bill In Ice

Created by Chance Wolf
We are happy to offer Chance Wolf's Signature Routine "Bill in Ice!" A complete routine which has been developed for over 15 years. Chance reveals his signature effect which has KILLED laypeople as well as magicians.
Chance covers EVERY ASPECT from the set-up, props and handling, audience management, the KILLER SWITCH and much more! Chance says:
"Bill in Ice" has been my favorite effect over all my years of performing. I cannot stress the power of this routine and method. It is well worth the time investment as it will leave your audience laughing as much as amazed. I felt it was time to share this with the magic community."
Magician enters stage wearing a tool belt which holds a banana, hammer, and a knife along with his trusty tape measure. The banana, hammer, a knife are passed out to several audience members. The magician asks for the loan of a bill, he extends his tape measure out to a volunteer who clips his money to the end of the tape measure. The bill is retracted onstage and the fun commences.
The magician begins to tear away the serial number corner of the bill and then the SPECTATOR FINISHES TEARING THE CORNER AWAY FROM THE BILL!! This leaves NO DOUBT that the corner the spectator holds, around his neck, is from the same bill that goes through a roller-coaster ride for the rest of the routine!
Ultimately, the bill is found FROZEN IN A BLOCK OF ICE which has NEVER BEEN NEAR THE MAGICIAN AT ANY TIME! The spectator himself frees the bill from the ice. This is only a fraction of the routine as all gags & patter will be detailed within the manuscript.
You also have the option of performing Chance's routine and ending with the LOCATION OF YOUR CHOICE for the finale! The bill can end up absolutely ANYWHERE! We must stress the strength of this routine when the audience actually SEES THE SPECTATOR TEAR THE CORNER OFF THE BILL!
Comes complete with Ice Mold, Switch Gimmick, Bill Clip, Necklace, fully detailed manuscript with photos.
In Stock
$35 + Shipping

( Free US 1st Class Mail)
Shipping Terms & Conditions
Please select the shipping option below based on destination (USA, Canada or International).  International shipping fees below DO NOT include any taxes or import duties your country may impose.  International and Canada shipping fees below DO NOT include insurance or tracking, and may take up to 10 days to arrive.  We will not offer refunds on lost international shipments. Please feel free to contact us with any questions.

Submit below to be added to the Interested List for this effect!

Thanks so much for your interest & support!