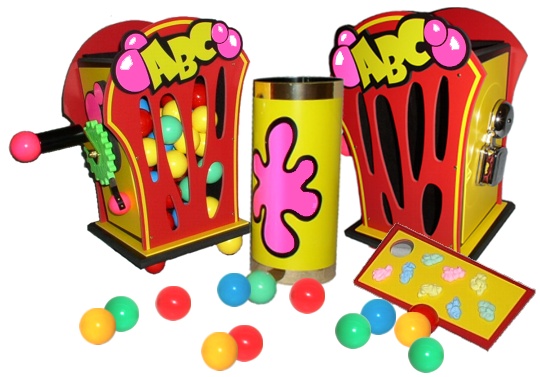 ABC Gumball Recombobulator

Created by Chance Wolf
WACKY WOLF'S FIRST and DEFINITELY WACKIEST CREATION!
They sure don't make magic like THIS anymore! No way, no how! Wacky Wolf's Productions is proud to present a new era in magic with incredible quality apparatus created and built exclusively by me, Chance Wolf, owner of Wolf's Magic!
Introducing the ABC (Already Been Chewed) Gumball Re-Combobulator, and boy, is this a WINNER!!!
First of all, this thing is BIG! It has been Designed with the Professional Performer in mind for VISIBILITY.
EFFECT: The craziness begins when the performer tells the audience about his 'unusual' collection of GUM-WADS! Yes, gum ALREADY BEEN CHEWED! Ewwww! A pallet of assorted gum-wads is displayed. Then the performer introduces the ABC GUM RECYCLER. This wacky machine is taken apart showing both the Combobulation tube and containment chamber empty. The tube is inserted into the chamber and the gum-wads dropped in. One of the Gum wads STRETCHES off the Palette until it SNAPS into your Fingers!
"Hmmmm…must have been a FRESH piece!" Next the crank is turned which creates a loud ratchetty sound. The tube is removed and the sticky gum is pulled from the tube like taffy. The pulling is accompanied by a squeeking sound which adds to the silliness.
Again the tube is inserted into the chamber and the handle cranked. Suddenly an alarm sounds. The recycling is complete. The tube is removed and shaken over the chamber. A slew of large gumballs (NOT INCLUDED) fall from the tube almost FILLING the Chamber!!
This is a great colorful-visual effect that will create laughter and excitement. Can be seen in the largest venues as the bright colors and size make this an excellent school-show or stage effect. Made of the finest materials. Utilizing a Synthetic product that will eliminate touch-ups as the color is solid throughout the material!
You are supplied with the entire outfit: Chamber, Tube, gumballs, gum-wads, pallet and complete instructions. Crank Handle is Removable and all parts pack into the unit for easy transport.
Size: Box: 18″ x 13″ x 10″; tube: 12″ x 5 1/2″
Requires ( 2 ) AA Batteries NOT INCLUDED, ABC Gumballs NOT INCLUDED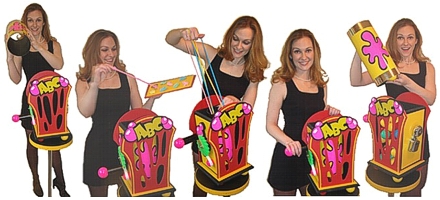 VAULTED
**SPECIAL NOTICE**
This "ORIGINAL" ABC Recombobulator has been "VAULTED" and is no longer available! Please check out our new ABC Gumball Recombobulator 2.0 if you're interested in this effect!
Thanks so much for your interest & support!