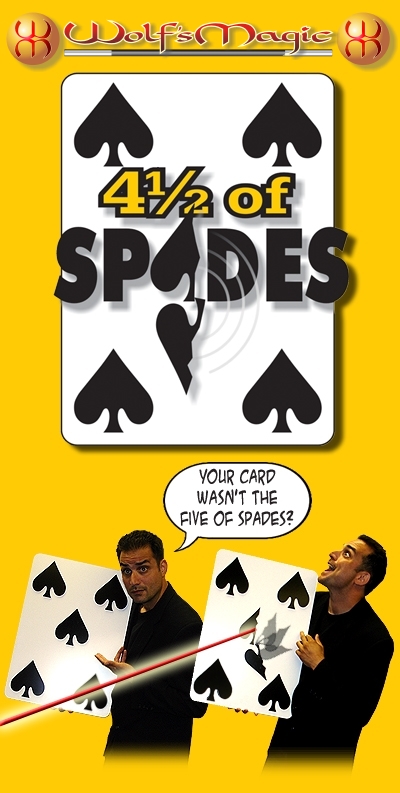 4 1/2 of SPADES
Created by Chance Wolf
The 3 1/2 of Clubs has been a classic close-up magic trick for many years! Now, Chance Wolf of Wolf's Magic has taken this effect and blown it up to full stage size (17″ x 22″)! Chance has recreated the entire plot sure to bring a huge laugh at every show!
The routine has been a staple in Chance's personal act for many years. The two-phase routine begins by stating to the audience that you have a prediction, covered by a shimmering cloth, and will be in full view at all times. A lady is chosen from the audience and asked to freely select a card, however before she selects her card you will attempt to control her thoughts and actions through mind control allowing her no choice but to select the only card in the deck, which will match your prediction.
The comedic mind control process begins and she then picks a card. The girl is asked to return to her seat with the card until the end of the show.
Phase two brings the girl back onstage and the fun begins. The magician states that the trick would be good if the card matched the prediction but he will take it a step further! He asks the girl to divide the value of her card in half and his prediction will match the half value perfectly!
Unfortunately, the girl says the number 4 1/2. To the magician's dismay, he picks up & uncovers the card and reveals that his prediction was close, but not close enough. With his magical laser pointer, he begins to slice down the center Spade and to everyone's amazement the SPADE VISIBLY SPLITS IN TWO, its right half swinging downwards! "Ladies and gentleman, I give you the FOUR AND A HALF OF SPADES!!"
This is a precision machined piece of apparatus fabricated from high tech materials combining baked enamel aluminum with high density plastic core. NO ELECTRONICS! NO REMOTE CONTROL! It is simple in method and operation, giving you a reliable prop for many years to come! Built to the quality you would expect from Wolf's Magic!
Comes to you complete with custom made durable baked enamel aluminum & high density plastic jumbo 17″ X 22″ card, Portable Aluminum Easel, shimmering Cover Cloth, detailed instructions, all fitting in an extremely thin zippered Canvas Carrying Case.
PLEASE NOTE: Pointer laser NOT included!!

IN STOCK
(Shipping begins FRIDAY, NOVEMBER 13th 2020)
$265 + Shipping

Shipping Terms & Conditions
Please select the shipping option below based on destination (USA, Canada or International). All options include insurance and tracking. International shipping fees below do NOT include any taxes or import duties your country may impose.  International shipments may take up to 10 days to arrive and we will only offer refunds on lost/damaged shipments if insurance was purchased.  Please feel free to contact us with any questions.

Submit below to be added to the Interested List for this effect!

Thanks so much for your interest & support!