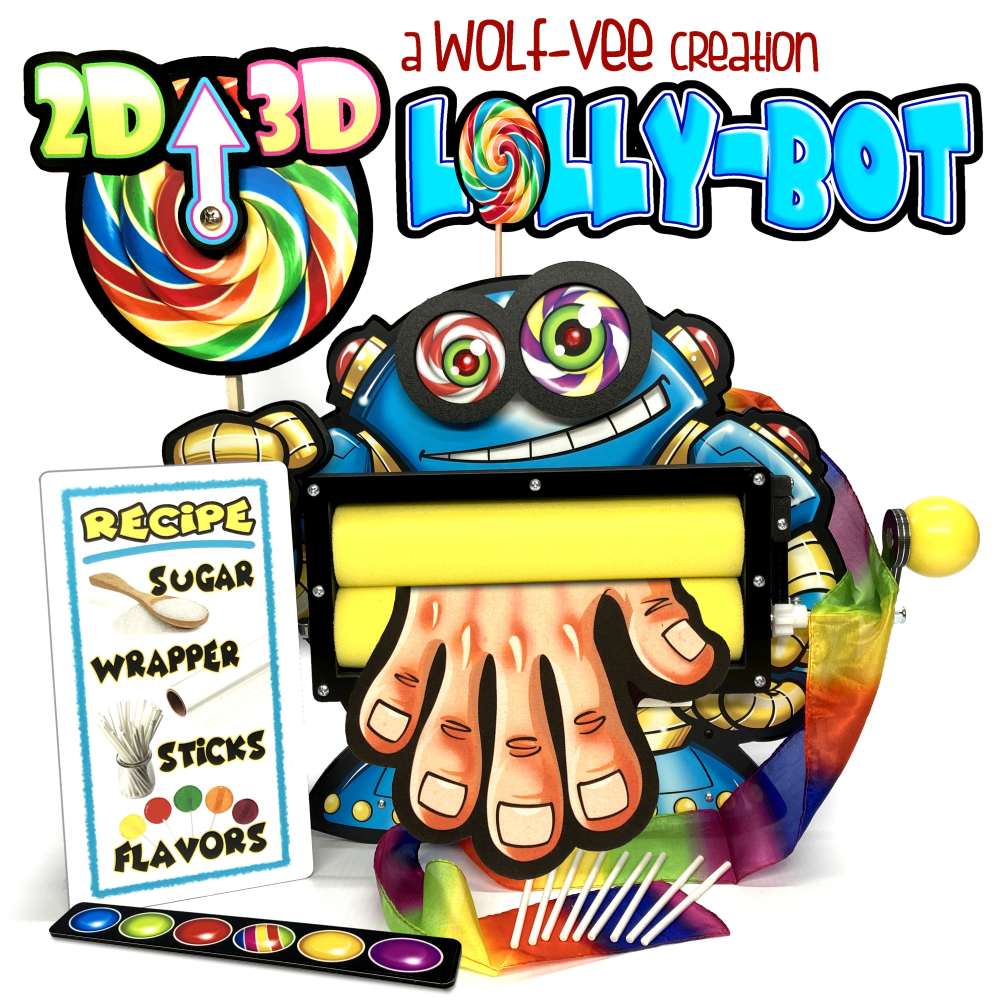 LOLLY-BOT
Created by Chance Wolf & Jimmy Vee
 We are so excited to release what we think is the most magic packed entertaining routine we have created in almost 20 years! This idea was originally conceived in the FIRST YEAR of Wolf's Magic! While the original version looked nothing like today's version, the basic concept was enough for me to reach out to Jimmy Vee and put our creative minds together! And the LOLLY-BOT was born! The plot was changed to fit a modern-day topic…2D and 3D PRINTING!
This routine has many stages of comical entertainment with visual gags and LOTS of MAGIC!!! Designed for easy operation so you may focus on delivering a fun routine! The engineering and design are one of the cleverest combinations of existing principles packed into one powerful prop!
FEATURES!!! 
1) Multi-colored LED blinking eye lights with on-off switch
2) Recordable sound device with stock sound effects and voice (You can re-recorded to your preference)
3) Durable cartooned jumbo flattened hand
4) Durable vinyl 2D lollipop banner
5) Large load compartment for up to (30) 1 1/2″ lollipops, or whatever lollipop candy you choose for custom routine
6) Large lollipop breaks down and is removable for storage
7) Ratching clacker strip on roller crank
8) Flavor paddle for hot rod force
9) Sturdy Dibond and PVC contruction
EFFECT!!
Phase 1: The Introduction
The magician introduces the audience to his passion for lollipops and his solution to all his lollipop needs, the Lolly-Bot. The magician explains the basic workings of the Lolly-Bot and how it's his best invention yet! It's SO simple! He turns him on, the eyes light up and the Lolly-Bot beeps. He explains how the Lolly-Bot is so amazing because it makes REAL lollipops in seconds! The magician explains how he has to do a test print in 2D before he can make the REAL lollipops, you know, just to make sure its programmed right. 
Phase 2: The Selection
Magician patters on about all the flavors of lollipops, and it's sometimes hard to decide. A paddle is shown with different flavor colors. Child is asked to pick a number between one and six. (Magicians "Hot Rod" force is used) The RAINBOW flavor is chosen. The magician turns the dial to 2D then explains that all he needs to do is simply cranks the handle…BUT it won't turn! No problem! Did he forgot to clean it? An old lollipop must be stuck inside. The magician reaches his hand into the back of the machine and fiddles about while cranking the rollers as a FLATTENED HAND begins to emerge from the rollers! Kids laugh and scream while the makes his hand reappear.
Phase 4: 2D Magic
The magician again makes sure the arrow is pointed at 2D, opens the Lollybot to show it's completely empty and all "cleaned" out. The magician tunes the crank handle with a clickity ratcheting sound. The paper rolls from the roller as it PRINTS OUT LOLLYPOPS in the EXACT FLAVOR CHOSEN!
Phase 4: 3D Preparation
The Magician prepares the audience for what may change lollipop making history for ever! The 3-D mode! The arrow is dialed to point at the 3D. The Lolly-Bot is once again shown empty. The magician explains he will need to add a few ingredients, luckily he has a recipe. The recipe panel is brought out and ingredients are called out one at a time. Sugar packets (not included) and lollypop sticks are placed in the top of the Lolly-Bot.  Next on the list is the wrapping paper. A roll of saran wrap (not included) is shown and magician begins to unroll the saran wrap but it gets out of control as he begins wrapping himself up in saran wrap! Kids go crazy seeing this!! He tears a piece off stating "this should do" and places it inside the Lolly-Bot.  Continuing, as he is covered in saran wrap, he magically produces a Silk Flavor Streamer (your choice of production method) This is placed in top of the Lolly-Bot as well.
 Phase 5: The Finale
With the ingredients in, it's time to make some lollipops!. The Magician turns the crank handle with a clickity ratcheting sound while electronic beep beep processing sounds are heard. Suddenly a siren wails AND the LOLLY-BOT says "WARNING! WARNING!! PRINTER OVERLOAD! CHECK MACHINE FOR MALFUNCTIONS!.   Magician frantically looks over, under and around the machine then finally pulls open front roller panel and THE MACHINE IS LOADED WITH REAL LOLLYPOPS OF THE CHOSEN FLAVOR!!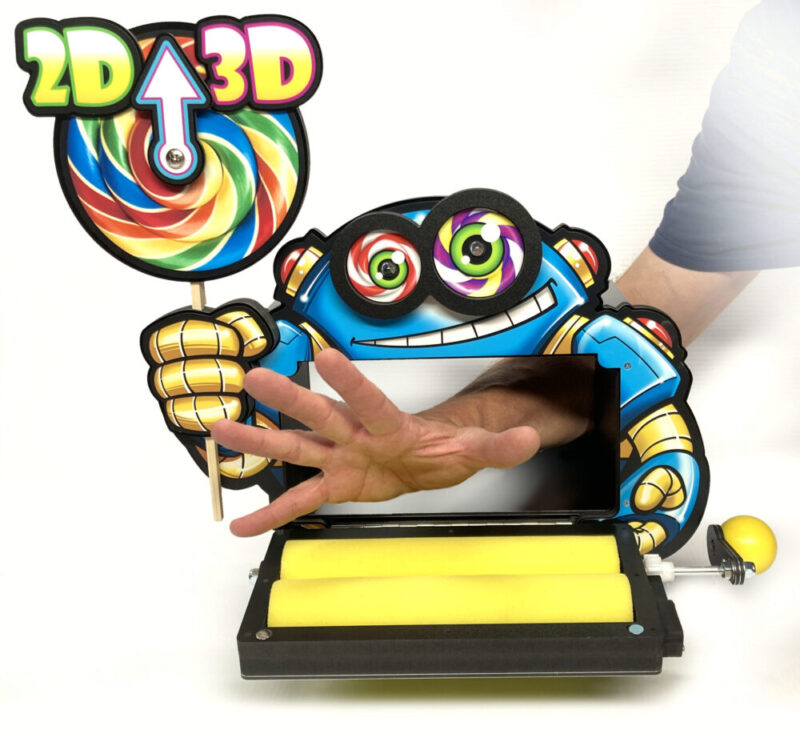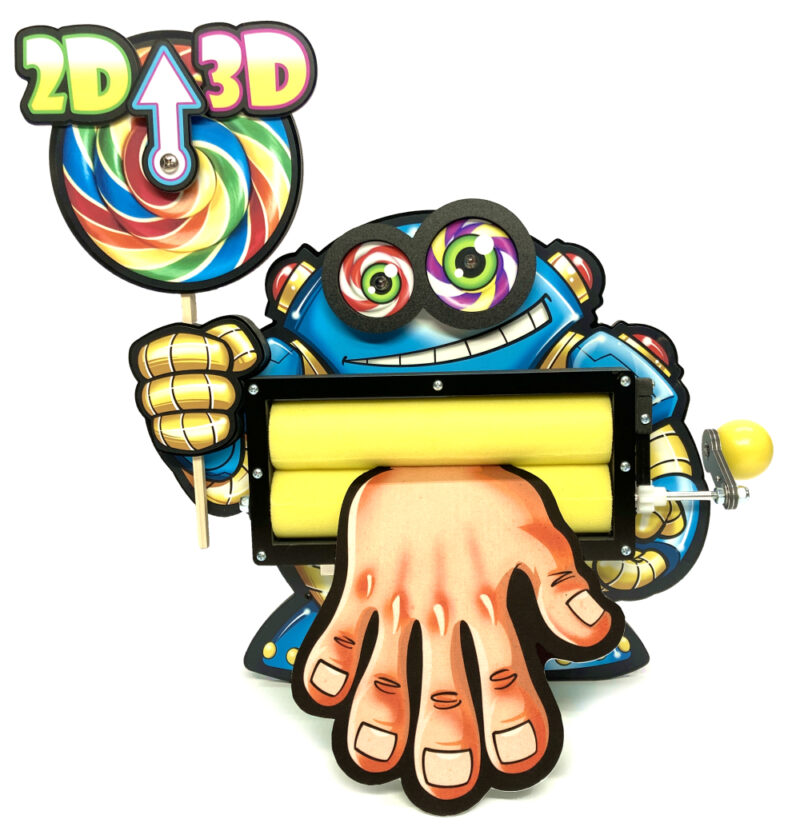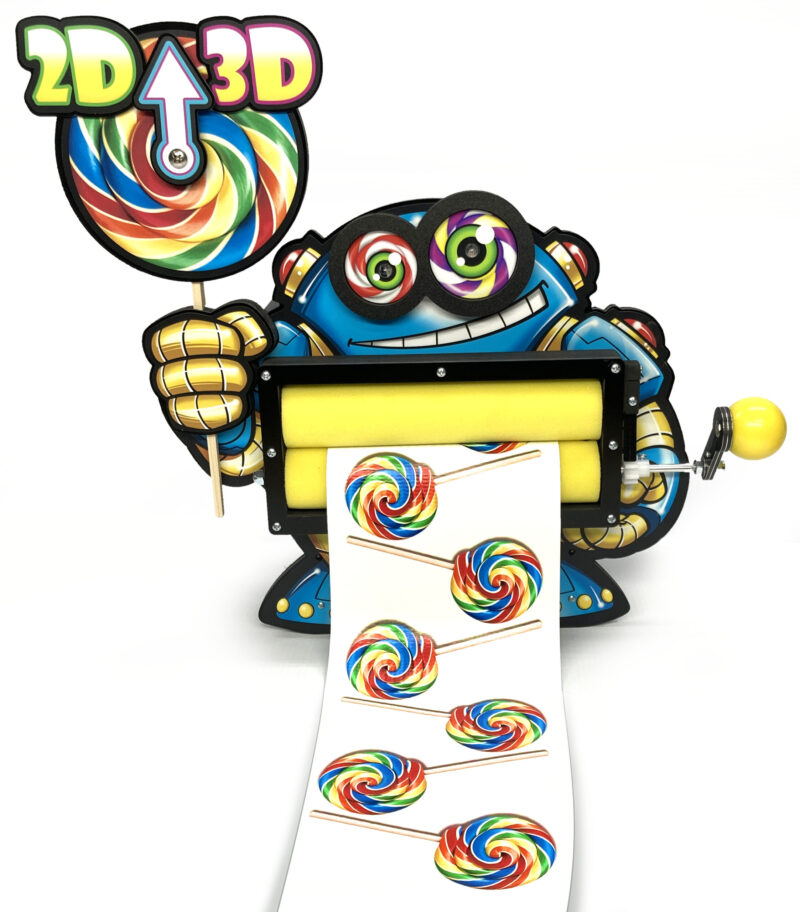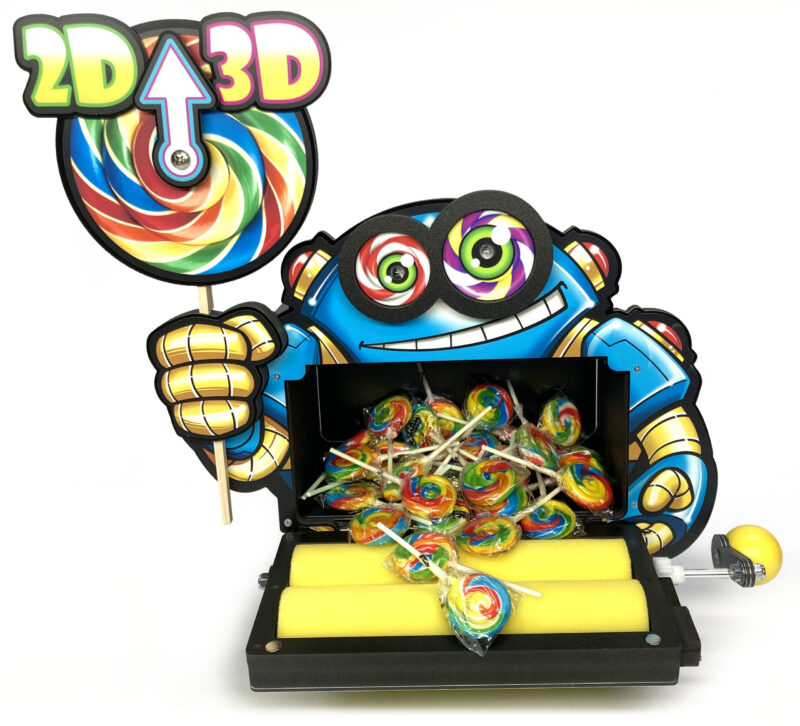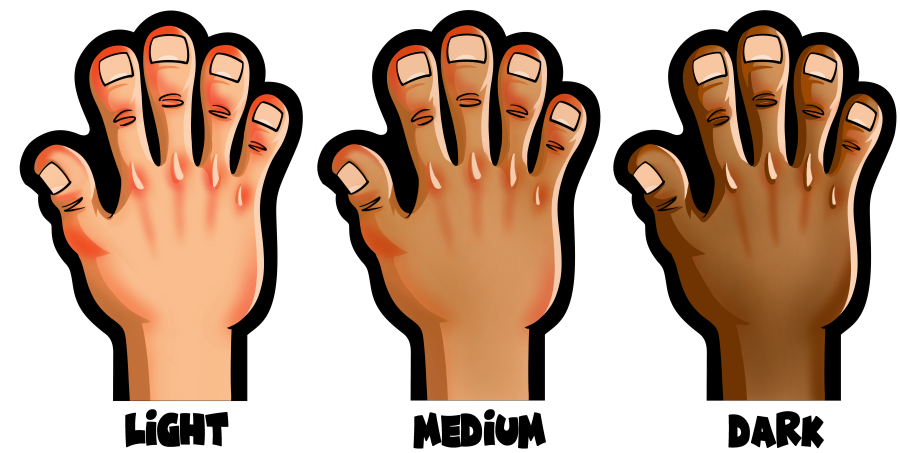 Size: 14″ Tall x 17 "Wide  x 7″ Deep (Without Lollypop)
Requires:  (1 ) 2032 Cell Battery INCLUDED / (3) AAA Batteries NOT INCLUDED
Includes : Rainbow silk streamer, sample lollipop sticks flavor palette, 2D lollipop printout, programmable sound device, jumbo flattened hand
Does NOT include : Sugar packets, saran wrap or cellophane, lollipops
Out of Stock
$795 + Shipping

LOLLY-BOT Extras
(Please use the links below for samples of LOLLY-BOT supplies/recommended extras)
Shipping Terms & Conditions
Please select the shipping option below based on destination (USA, Canada or International).  All US shipments include tracking and insurance. International shipping fees below DO NOT include any taxes or import duties your country may impose.  International shipments may take up to 10 days to arrive and we will only offer refunds on lost/damaged shipments if insurance was purchased. 
All orders OVER $500 will require a signature upon delivery.  Contact us to change this requirement.  Please know we will not be responsible for deliveries stolen from doors/porches AND shipping companies do not honor insurance for stolen packages.
Please feel free to contact us with any questions.

NOTE: PLEASE SELECT FLATTENED HAND COLOR PREFERENCE BELOW
Submit below to be added to the Interested List for this effect!

Thank you so much for your interest and support!