Created By Chance Wolf
With permission from Phil Goldstein, Wolf's Magic presents the KING SIZE version of the Classic B'Wave effect!!
B'Wave has always been one of my favorite close up effects. The routine is FANTASTIC and the Magic is Superior!
I have always wanted to create a version that was large enough for any stage and manufacture it to the highest quality standard possible to assure YEARS of performance. Well, good things come to those who wait. After getting a bump from my buddy Oscar Munoz, I decided to go ahead and give it a shot. The final outcome is sure to please!!
Special thanks to Brian Cook for the COOL new name for the effect!
The custom cards are a whopping 17″ Tall x 12″ Wide!!
The custom cards have been fabricated from a DURABLE waterproof polystyrene. NO CARDBOARD to wear out! The Graphics are made from our exclusive Digitally Printed Vinyl Decals which are thermally laminated giving a near BULLETPROOF protection!! I can assure you the quality of these cards will far surpass your expectations and last for MANY years…if not forever 🙂
We have also included a Carrying Case made of a sturdy Black Canvas which aids in the routine as well.
EFFECT: Four cards create three Tsunami Waves of MAGIC!
Through an entertaining process of using "Invisible" cards, one of four Queens is chosen as the remainder of the "Invisible" Cards is placed into a large Carrying case. After a bit of comical byplay of peaking into the case and chatting with the three uncooperative "Ladies", the Case is opened revealing four visible GIANT PLAYING CARDS. The four cards are cleanly fanned out – the only face-up card is the CHOSEN QUEEN! Then you turn it over – its back is a DIFFERENT COLOR from the other cards! As final proof that you knew positively which queen would be named, you turn over the other three cards – THEY ARE ALL BLANK! No sleights, no rough & smooth, no extra cards, just pure POWERFUL magic! A true entertaining routine, which gives the four Queens some real character.
No sleights, no rough & smooth, no extra cards, just pure POWERFUL magic!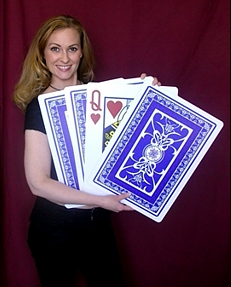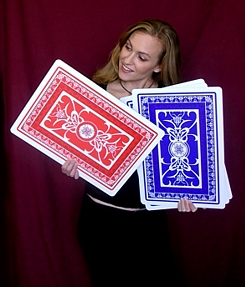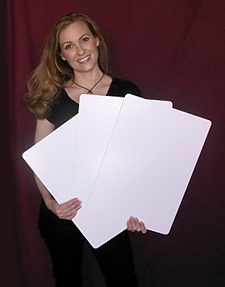 Out of Stock
$220 + Shipping

Shipping Terms, Prices & Conditions
Please select the shipping option below based on destination (USA, Canada or International).  International shipping fees below do NOT include any taxes or import duties your country may impose.  International shipments may take up to 10 days to arrive and we will only offer refunds on lost/damaged shipments if insurance was purchased.  Please feel free to contact us with any questions.

Submit below to be added to the Interested List for this effect!

Thanks so much for your interest & support!